ROBERT HAIG c1600 -1664
It is said that Robert learned the art of distilling in Holland before moving to Throsk, near Alloa, in 1623.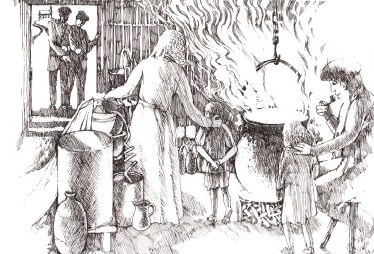 In 1655 he was summoned to appear before the Kirk Session accused of the heinous crime of distilling on the Sabbath
 "His cauldron on fyre, and a stand reiking"
This is the first known reference to whisky distilling of sorts and easily gives the Haig family the title of Scotland's oldest whisky dynasty with over 350 years' experience.
JOHN HAIG 1720 – 1773
In 1751, Robert Haig's great, great grandson married John Stein of Kennetpan's daughter Margaret. They moved into the Gartlet Farhhouse which was close to Kennetpans and Kilbagie distilleries.


A dowry from John Stein?
The house was described as "an attractive small mansion with crowsteps, pantiles and quoins, distinguished by projecting entrance gable at the centre of the facade with plastered entrance, heraldic panel and round attic window".
The Haigs had eleven children before John's untimely death at the age of 53.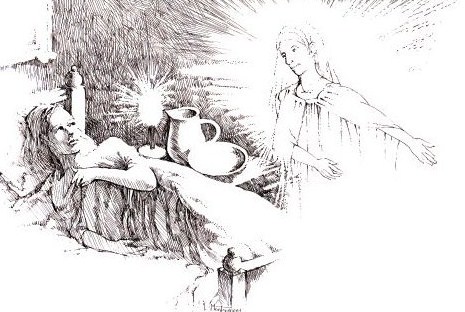 Margaret, inconsolable, took to her bed and refused to get up until the ghost of Margaret Caldam (her dead mother) appeared, begging her to get up saying "Take your children and educate them, and give them a good start in life. For I am permitted to tell you that if you give heed to my words, some of your descendants shall rise to such high positions in this world as are undreamt of by you".
Their uncles, John and James Stein took the five sons under their wings and trained them as distillers at Kennetpans and Kilbagie. The young Haigs were eager to learn and with financial backing and guidance from their uncles they went on even to surpass them.
JOHN HAIG AND MARGARET STEIN'S CHILDREN
MARGARET HAIG 1752 – 1815
Married John Jameson from Alloa.
Had 16 children 10 of whom survived into adulthood.
John eventually took control of the Bow Street distillery and created the Jameson whiskey dynasty.
JAMES HAIG 1755 -1833
Went to Edinburgh in 1780 and built Lochrin Distillery and then Canonmills in 1783 and Sunbury Distillery in around 1806.
By 1790s he was the pre-eminent Lowland Distiller and was the spokesman for the industry.
MARY HAIG b1756
JOHN HAIG 1758- 1819
Attended St Andrew's University then was apprentice at Seggie.
Married his cousin Margaret Stein.
Moved to Edinburgh and joined his brother James at Lochrin.
Bought and expanded Leith Distillery at Bonnington and Cameron Bridge Distillery both in 1804.
GEORGE HAIG 1760 – 1774
Died aged fourteen.
ANNE HAIG  b 1761
ROBERT HAIG  1764 – c1834
Moved to Dublin where he purchased Dodderbank Distillery in 1795.
JANET HAIG  b 1766
Married John Philp who founded Doll's Distillery in Menstrie.
CALDOM HAIG  1767 –
ANDREW HAIG 1769 – 1824
Stayed at Kilbagie where he had been an apprentice for his uncle, James Stein.
In 1810 Morning Chronicle February 1820, where he was listed as 'of Clackmannan', he was named as one of the four leading distillers along with James Haig (Sudbury), John Stein (Kennetpans) and Spears Mitchell & Co.
WILLIAM HAIG 1771 – 1847
Married his first cousin Janet Stein
Served his apprenticeship under his uncle Robert Stein at Kincaple which he ultimately took over.
Built Seggie Distillery. Seems to have taken over his brother John's Bonnington Distillery in 1821 until 1826 when it passed to Haig Bros & Co (John and Robert, his two sons).
William and Janet's son John (1802 -) married Rachel McKerras Veitch in 1839. Their son Douglas (1861 – 1928) became Field Marshall Sir Douglas Haig.
THE HAIG BRANDS
JOHN HAIG & CO LTD
Founded by John Haig (1802 – 1878)
Founder of the Cameron Bridge Distillery in 1824
John was an innovator just like his Stein uncles were. He soon realised that the invention of the Patent Stills would lead to a glut of spirits flooding the lowland market. By the mid 1830s he was trying to interest other distillers in a scheme to regulate production and to stabilise pricing. By the 1850s he was regarded as a leading spokesman for the Scottish Distillers and was able to influence Government on Acts relating to the manufacture of spirit. By 1865 he was the inspiration behind the formation of the Scotch Distillers Association. This was later to become DCL (Distillers Company Ltd), a group of grain whisky distillers formed to try to control the now saturated spirit market. By 1877 DCL members controlled 75% of grain whisky production. John Haig & Co Ltd was floated in 1894 and in March of 1919 the ordinary shares were sold to DCL who acquired control.
HAIG & HAIG
Founded in 1888 by John Haig's four sons primarily to trade in the American market. By 1893 they introduced the now famous Dimple bottle into this market. Haig & Haig became a limited company in 1898 but went into receivership in 1907. After being passed on several times the Haig & Haig interests were eventually bought by DCL and transferred to John Haig & Co in 1925.
HAIG BRAND FACTS
In 1958 the Haig Dimple bottle was the first container to be trademarked by the US Patent Office for its unique design.
From 1930- 1970 Haig Gold Label was the UK's brand leader, backed by the famous slogan 'Don't be vague, ask for Haig', the first brand to sell a million cases in the home market.
Joe Kennedy, JFK's father and chairman of Somerset Importers, was appointed distributor of the Haig's Dimple brands in the USA.
The famous Field Marshall Earl Haig of WW1 fame was chairman of DCL in 1924.
To this day the Haig's Cameron Bridge Distillery is the largest spirit distillery in Europe.