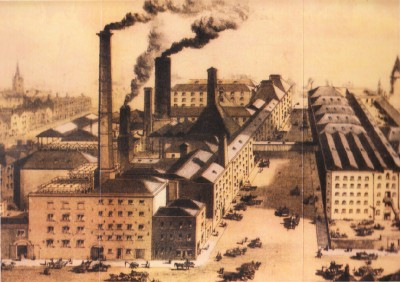 1780 – 1971 Founded by John Stein of Kennetpans.
John Jameson, originally from Alloa, was related to the Steins / Haig's through marriage. John became manager at Stein's Bow Street distillery before taking full ownership in 1805. By 1810 it had been officially renamed 'John Jameson & Son'.
Alfred Barnard states,
In 1886 the distillery covered upwards of five acres and achieved an annual output of one million gallons. The warehouses contained 25,000 casks of whiskey of which 6,000 were duty paid and ready to be sold to merchants". He goes on to describe the industries found within Bow Street Distillery – "A smithy, cooperage and saw mills, engineers, carpenters, painters and coppersmiths.
The firm make all their own carts and wagons, repair the machinery and construct their own buildings. The engine department contains two fine engines, one 35 and the other 16 horse power. Three hundred men are employed on the works , and it is a notable fact that the operatives are never turned away except for misconduct".
By the beginning of the 20th century it became the No 1 distillery in Ireland.
Only as recently as 1968 the company started selling Jameson's in bottle form. Until then it was only sold by the cask to publicans and bonders. Production in Bow Street ceased in 1971 and temporarily moved to Power's Distillery in John' s Lane, Dublin before eventually moving to the newly constructed Midleton Distillery in 1975.