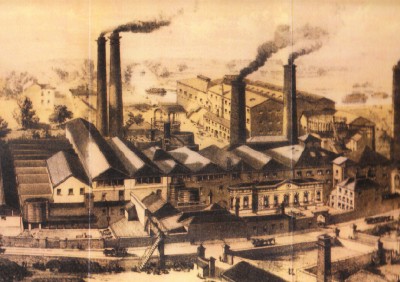 ~ 1750 – 1923 (William Jameson & Co)
Founded in 1750 and taken over by John Stein of Kennetpans in 1780.
Around 1800 John Jameson's son William, who was married to one of Stein's daughters (Isabella), joined his father-in-law's Marrowbone Lane Distillery. William's new venture was to be short lived as he died within a few weeks of becoming a partner. It is thought that he was a victim of Typhus or Relapsing Fever which raged through Irish towns.
William's share was passed on to his brother James who eventually assumed total control of the distillery in 1820 after buying out John Stein.
Despite family ties, Bow Street and Marrowbone Lane Distilleries were nothing but business rivals.
To meet demand Jameson enlarged the distillery with an investment of £100,000 (approximately £20 million) taking the site to an incredible 14 acres which produced 900,000 gallons of whiskey annually by means of four old pot stills with the capacity of 18,000,12,000, 11,000 and 9,000 gallons.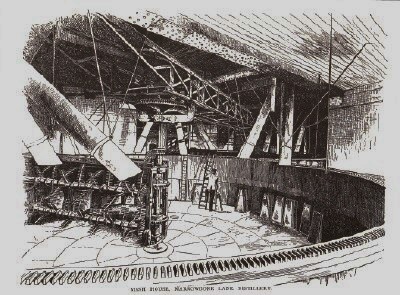 Largest Mash House in the United Kingdom with a capacity of 100,000 gallons
The distillery had nine bonded warehouses which regularly would contain in excess of 20,000 casks plus four other out warehouses which held another 7,000 duty paid casks. As with all distilleries of this period it was self sufficient. The distillery had a total staff of over 200 employees. The cooperage alone took up one acre and employed 30 men; it had its own carpenters, painters, engineers and smithy on site. The stables were the size of cavalry barracks with their own horse hospital.
In more recent times the Marrowbone Lane Distillery was linked to the Easter Rising of 1916. Con Colbert was captain of the Forth Battalion and was in charge of a force of more than 100 rebels at this distillery when it surrendered on Sunday 30th April 1916.
His execution took place on 8th May 1916.
The names of William Jameson and Marrowbone Lane are long forgotten.
Closed 1923.