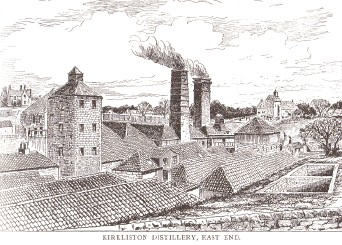 1795 –
Established under the name Cambsmiln in 1795 and over its first 30 years had three owners / operators.
It was bought in 1825 by Andrew Stein who installed one of the first continuous stills, it was not a success and he was sequestrated by 1831. Distilling resumed the following year under the name 'Patent Distillery Co' which lasted only one year and over the next two decades it passed to Andrew Philp, Ralph Strachan, Buchanan & Co and finally to John Stewart & Co.
Under the Buchannan's, in 1850s the Stein Stills had been removed and the distillery returned to single pot distilling. The Stewarts reversed the process and installed a Coffey Still.
Kirkliston ceased distilling sometime in the early 20th century but it is still used to this day to make yeast and malt extracts.