& The Downfall of the Scottish Whisky Industry 1788
In London in the 1730s the amount of gin distilled and sold had reached staggering heights climbing from 3.5 million gallons in 1727 to 5.5 million gallons in 1735.
Cheapness was an essential requirement of the gin drinking public. Consequently there was an incentive for less scrupulous distillers to adulterate their product (often with turpentine) which could result in sickness, blindness and even death.
Not entirely in jest did gin get the nickname 'Mother's Ruin'.
The slogan "Drunk for a penny, Dead drunk for two pence. Straw for free" appeared over the doors of public houses and promised the totally inebriated would be provided with the where with all to sleep off their stupor.
Economist Charles Davenant warned "Tis a growing fad among common people and may in time prevail as opium with the Turks". The government of the day saw the gin craze as a threat to the fabric of society and were fearful of social disorder. They introduced measures (taxes) to combat the "evils of mother gin".
The vast 'Great and Middle Class Distilleries' owned by the Steins and Haig's had saturated the Scottish market and now had their sights set on the London market. In 1777 the Steins experimented with sending whisky to London for rectification and compounding into gin (the first recorded exporting of Scotch whisky).
This proved to be a huge success and exports rose dramatically from 2,000 gallons in 1777 to 184,000 gallons in 1782. Kilbagie alone, James Stein's enormous plant, had a potential capacity of 16 tons (5,000 gallons) of Holland's Gin per day. By 1786 Scottish production accounted for a quarter of the English market.
Paralleled to this, four large English distilleries were founded, one in Bristol and three in Liverpool. The Steins / Haig's joined forces with these distillers through their mutual London agents, Sandeman and Graham, to challenge the London market by cutting their prices to below production costs.
This threat alarmed the London distillers who had previously enjoyed a near monopoly of the English market. These distillers, being an opulent body of men, had also kept their price of spirit below cost.
They bribed Excise officials to impose petty restrictions on shipments from Scotland and other parts of England tying stocks up for long periods of time at the quayside. The London distillers put pressure on parliament to drive the Scots out of England, it was said they were no match for the Scottish distillers under equal law.
The London distillers had received information that vast amounts of duties were being evaded in Scotland which would support the fact in 1785 Scotland exported large quantities of spirit to England yet Scottish tax revenues had diminished." from this circumstance it was suspected that frauds were committed against the Revenue to a great height".  In 1786 the Scottish Distillery Act imposed extra duties on spirit sent to England and sales collapsed to a thirteenth of the previous year.
The Edinburgh Advertiser commented that this was "almost equal to prohibition" and Robert Burns was inspired to write 'The Author's Earnest Cry and Prayer to the Honourable Scotch Representatives in The House of Commons which included the famous line
"Freedom an' whisky gang thegither!.
THE BRIBE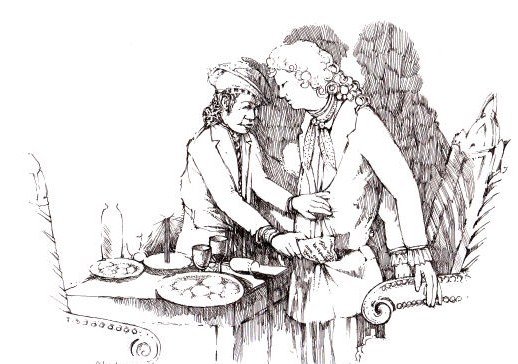 James Stein attempted to bribe the Solicitor for Excise in Scotland, John Bonar, to ignore provisions of the new Act.
After breakfasting with him and complaining bitterly about the new law, Stein slipped a packet into Bonar's pocket saying it was a pair of gloves.
In fact it was £500 wrapped in paper on which was written "this will be repeated once every year". This was a huge sum of money, probably around £100,000 in today's terms. Bonar reported him and the case came to the High Court on 4th December 1786. Stein was defended by Henry Erskine, a brilliant advocate, and the jury found that although Stein had given Bonar the money, the charge of bribery was not proven. You wonder how many other 'pairs of gloves' Stein must have gifted!
Stein replied by suing the Excise for £80,000, about £17 million today, which he calculated would compensate for his loss of business. This case lapsed on the understanding the new act due in 1788 would offer relief.
The Steins & Haigs continued their relentless struggle with the London distillers and stepped up the price war by drawing off large stocks held by their agents, Sandeman & Graham. The Great Distillers with their huge investments in their distilleries / agricultural interests had no option but to continue the battle.
A new act was passed in 1788, The Lowland Licence Act. This was not the act the Scottish distillers were promised or hoped for. This act single-handedly wiped out the great Scottish distillers in one fell swoop. The act requires all Scottish distillers exporting to England to give twelve months' notice of intent to export, effectively banning any movement of whisky for one year.
In the last week of February, James Stein informed a family conference that their London agents, Sandeman & Graham had gone into liquidation. As a result of their agents failure, coupled with the ban on exporting, all five of Scotland's great and middleclass distilleries owned by the Steins and Haigs followed the fate of Sandeman & Graham. Kennetpans, Kilbagie, Kincaple, Canonmills and Lochrin between them had controlled 50% of the Scottish whisky production.
The total debts of the five distilleries approached the immense sum of £700,000, approximately £150 million in today's terms. The catastrophe severely disrupted lowland agriculture with farmers and grain merchants losing their biggest customers. It was not just the great distilleries that suffered. A large number of small to medium sized distilleries across the central belt closed.
This resulted in the lowland market being flooded with a deluge of cheap and nasty whisky (spirit) that was originally designed to be sent to England for rectification into gin. The consequences to the whole of the Scottish economy can not be emphasised enough, so much so that The Royal Bank of Scotland, one of the main creditors, was put under considerable strain – how history repeats it's self.
Not only because of their direct involvement but because they were called upon to assist one of Edinburgh's private banks, Forbes & Co, who had been hit particularly hard by the Stein's / Haig's downfall. A good analogy would be for Scotland to have lost overnight its oil industry. Export to England went from 900,000 gallons in 1786 to zero from 1790 – 1794.
It would seem James Stein had been struggling for a conciderable period. In a communication to his nephew in July 1787 he states he was not in a position to pay his outstanding debts. In correspondence dated September 1787 he states "I have £32,500 to pay this and next month, I am really difficulted about it". In October he writes he is £5,000 short for the week and adds he must "absolutely stop payments".
In order to keep his business afloat he set up two nominal companies in October 1787 with the intention of purchasing all his grain requirements for Kilbagie through them. Obviously his suppliers were unaware of his finacial position and he even managed to negotiate seven months credit. By the time James eventually went into receivership on 23rd February 1788 he had taken delivery of between 20 – 30 cargoes of grain from these companies without paying a penny.
Robert Stein reflected in 1788 "The manufacturing of spirits for the London market had been a losing trade". Sir William Forbes, banker to the Steins and Haigs noted "For a considerable time they had been carrying on a losing trade in a foolish and fruitless contest with the London distillers".
Author Walter Ross commented in a newspaper article "If, then, the exportation of a single article from Scotland is to create such mean jealousy, if the trade of spirits is to be checked in its infancy, because a few London distillers find themselves obliged to part with a little of their profits – let the prodigious influx of porter, of ale, of cloth, groceries and all other goods from England to Scotland,  be considered as an evil, and restricted or prevented – Scotland will gain more in one year than she (England) can in thirty".
PHOENIX FROM THE ASHES
The Steins & Haigs were down through no fault of their own except that of taking on the London distillers who had the ear of the government and deeper pockets
BUT THEY WERE NOT OUT.
Their creditors realised their failure was largely due to the change in law and were prepared to share their losses and help the families re-enter the industry although there was strong criticism of the way they had tried to undercut the London distillers.
After the lifting of what was effectively prohibition in 1814, five distilleries registered to recommence exporting to England. They were all owned by the Steins & Haigs as a change in the law closed the English market to all but the largest distilleries. This relieved pressure on the Scottish market and allowed the smaller lowland distilleries to prosper once again.
John Stein of Kennetpans – sequestrated in 1788. The distillery was silent until 1791 when it was bought by Mr Thomas Dundas and Mr Erskine of Mar who leased it back to John Stein Jnr. The distillery was in production until the death of John in 1825.
James Stein of Kilbagie  – sequestrated in 1788. Kilbagie was silent for six years until it was purchased by John Taylor (a relative) and leased to James's son Robert.
Robert Stein of Kincaple – sequestrated in 1788. The distillery was licensed to his nephew, William Haig, in 1795.
James Haig of Canonmills – sequestrated in 1788. Control passed to John Stein of Kennetpans in 1795.
John Haig of Lochrin –  sequestrated in 1788. It was reopened in 1795 and was run by John again along with his brother James until 1810.
It would appear John Stein of Kennetpans fared better than most.
According to our research he still maintained ownership of his two Dublin distilleries. One of the most ironical parts to this story was that it was John Jameson's son (Sheriff Clerk of Clackmannan) that dealt with the disposal of John Stein's assets.